The 2013 TAC Missileers Reunion is rapidly approaching. We are looking forward to seeing everyone in San Antonio!!!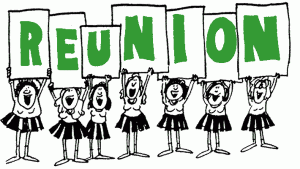 Wednesday, September 4th…
Registration Day  — Welcome to San Antonio!

Pick up your reunion welcome package upon arrival at the Hyatt Regency Riverwalk
Relax and reconnect with old friends.  No specific activities are planned.  Happy Hour will find many attendees in the hotel lobby or bar area. 4:00pm until ?
Thursday, September 5th…
Enjoy a pleasant day of sightseeing in San Antonio at your leisure.  Sightseeing ideas and discount coupons will be included in your welcome package.
Rio Cibolo Ranch (pre-paid registration required) — Transportation & Dinner & Entertainment

Coaches depart hotel at 5:00pm and return approximately 10:00pm.
Friday, September 6th…
Lackland AFB Tour (pre-paid registration required)  — Gateway to the Air Force / Home of Basic Training & OCS School.  See how much has changed since the 1950s / 1960s.  Coaches depart hotel at 9:30am and return at approximately 11:30am
TAC Missileers Business Meeting  & Hors d'Oeuvres Buffet at Pat O'Brien's

5:00pm to 6:00pm — Business Meeting (members only).  A separate hospitality area with a "cash bar" will be available for enjoyment by spouses and guests.
6:00pm until ? — Hors d'Oeuvres Buffet  and "cash bar" (members and spouses / guests).
Miscellaneous Info
If you will be arriving in San Antonio via, a rental car is not needed.  The hotel is very conveniently located, within walking distance of most all downtown attractions and it is easily accessible via airport shuttle and taxi service.
Airport shuttle service is typically $19.25 one way and $34.50 round trip, per person.

Go Shuttle has provided the following coupon that is a savings of $1 off their one-way rate and $2 off their round-trip rate. (Click on coupon to print.)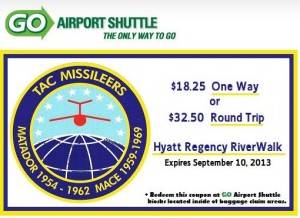 Taxi service is typically around $30 each way.
Hotel self parking is $12.50 (plus tax) per night. Valet parking is $33.00 (plus tax) per night.
Guest room standard Internet access is $9.95 (plus tax) per night.