Subject: 586th MMS Org Chart
Date: Mon, 17 Jan 2011
From: Sid Segler

To: Bob Bolton et al
I enjoyed looking at the Organization Chart of the 586th MMS on page 3. I can't speak much about the accuracy of QC, MAST or Maintenance Control, but I think I can add some updates to the "Missile Systems Maintenance" part. I do know that Maintenance Control was located in the infamous J6, just up the road from the Maintenance Area.
Click on image to enlarge.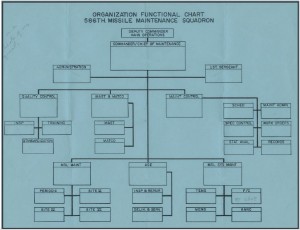 From November of 1960 through May of 1964 I was assigned to the 586th MMS, GEMS (Guidance Equipment Maintenance Section). We were located in the add-on offices section of the "third" hangar. Except for a temporary assignment as the coordinator of the Hahn RFML project, I was assigned to GEMS my entire tour.
The GEMS section performed maintenance on all of the equipment located in the nose of the missile. We tested, repaired and calibrated everything attached to the "base casting". Most components were just known as the "Black Boxes". We were one level below depot maintenance.
GEMS consisted primarily four large test benches. They were: Map Matcher Test Bench, Altitude Control Test Bench, Radar Test Bench and Flight Controls Test Bench. After a couple of years, I designed a test bench to provide testing and repair of the missile inverter. That eliminated the packing and shipping of the units to the depot level maintenance facility and provided for much faster turn-around time.
The AANC (Automatic Atran Nose Checker) that David Maas showed in the chart was located in the middle hangar along with the BMC (Basic Missile Checker). Those two units, the MLP (Missile Launch Pack) and TEMS (Test Equipment Maintenance Section) were originally located in vans which were mounted on the MM1's to conform with the concept of a "mobile" system. Except for TEMS, all were eventually removed from their vans and placed on hangar floors.
TEMS was responsible for the repair and calibration of the "drawers" and components of the BMC, AANC and MLP. At Hahn, TEMS was located on the floor of the third hangar adjacent to our GEMS shop. They were still in their vans, but inside and out of the weather.
During all of my time in GEMS, I had the pleasure of serving with our illustrious, current Tac Missileers president, Bill Simpson. Others in our unit were J. D. Lee, Ron Metzler, R. P. Anderson, Lance Reed, Dale Balducci, and "Points" Denwriter. All were outstanding people.
Attached is a photo showing the Map Matcher Test Bench with (L to R) me, Bill Simpson and JD Lee. Based on our ranks, I guess it to be about 1962.
Click on image to enlarge.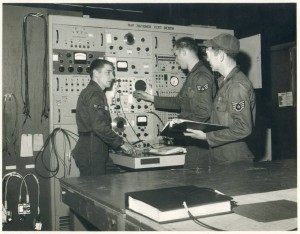 Thanks for all your good work and good luck to all Missileers.
Sid