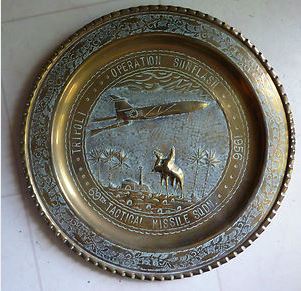 From: Robert Bolton
Sent: Wednesday, June 26, 2013
To: Russ Reston
Subject: Ebay Item May Be Of Interest To Some Folks In Our Membership
Russ,
I found this on eBay. Might be of interest to the Matador folks and possibly others. Please post.
1956 vintage USAF 69TH TACTICAL MISSILE SQUADRON OPERATION SUNFLASH PLAQUE
Bob
Note: This eBay auction is scheduled to end June 30th, 2013 at 17:00:05 PDT.
---
Miscellaneous comments received from John Gibbs – 1st PBS
From: John M. Gibbs
Sent: Thursday, June 27, 2013
To: Russ Reston; Bob Bolton; Max Butler; Ray DeBolt; Frank Roales
Subject: Re: New News Item(s) – Operation Sunflash Plaque – 1956 (eBay Item)
Hi Russ, Bob and All –
The below is indeed the 69th Tactical Missile Squadron (TMS) Operation Sunflash, 1956, Wheelus AB, Tripoli, Libya, plaque. It is both authentic and accurate, crafted by the same people who did my Libya plaques.
I have in my possession the 1st PBS Operation Suntan, October 1954, plaque and the then 1st TMS Operation Sunburst 1956, both at Wheelus AB, Tripoli, Libya Plaque, in both of which I did participate, as I also did on 1st PBS Operation Sunflash 1955.
I have,sometime in the past 3 years, furnished you with a color photo of both this 1st TMS Operation Sunflash 1956 plaque, together with photo of the 1st Pilotless Bomber Squadron (PBS) 1954 Operation Suntan plaque, both of which still hang on the wall of my mancave.
If you don't have these photos in your photo or electronic files, and wish same, please advise and I will be happy to duplicate same to you or anyone who desires same.
If memory serves me, which at now age 81 often it increasingly seems to not, the then 69th PBS arrived in USAFE too late in 1954 to do Operation Sunflash. However, they (as then the 69th TMS) did indeed in 1956 follow the then 1st TMS to Wheelus on 1955 Operations Sunflash and 1956 Operation Sunburst.
In the interim, in 1955, both the 1st & 69th, sequentially but separately, did Operation Sunburst, for which plaques were apparently not prepared. At least, I have never seen any; in Libya,
Germany or since. I did go to the market Tripoli stall location in 1955 and they were not there.
The 1954 Suntan and 1956 Sunflash plaques were crafted to order by Libyan Arab artisans in the same Italian owned and operated stall in the Old Market of Tripoli.
As you know, I really like doing this stuff and welcome this opportunity by inquiry.
John M. Gibbs
1st Pilotless Bomber Squadron
1953 – 1956