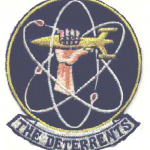 From: Bert Schwind
Sent: Saturday, October 01, 2011
To: Russ Reston (TAC Missileers)
Subject: TAC MSL #6
Russ;
I've just now joined the group and have attached some of my Matador recollections. Don't know how else to get this on the Site. I'd like to hear from any of the old Osan troops because I've lost contact with all my Team 1 – 6 compatriots. As you know, it's been 50+ years and there might not be many of us left.
Best regards,
Bert B. Schwind – Team 6 LO
---
Recollections of a Cold War Missileer
Bert B. Schwind
Team 6 LO
Osan
In early 1959 I was still assigned to the TR&D Section of the USAF Fighter Weapons School, Nellis AFB, Nevada. I was reassigned to the Tac Msl School at Orlando AB for training as a Launch Officer on the TM-61C (Matador). Upon arrival, I was introduced to my Launch Team #6 and shortly after, we started our training.
Team Members were:
1st Lt Bert Schwind – Launch Officer
T/Sgt Claude Maples – Crew Chief
S/Sgt Jose Salas – Guidance Tech
S/Sgt Ferrell – RATO Tech & Crane Operator
A/1C Ken Youmans – Launcher & Generator Tech
A/1C Meyerson – Warhead Tech
A/3C Arrowsmith Guidance Tech
A/3C Allen – Warhead Tech
Our primary team instructor was Lt Don Hensen who later took over as Launch Officer for Team 5.
During the almost year of training, Team 6 successfully completed more Day Countdowns & Night Countdowns than any previous team. We were also selected to perform demonstration countdowns at Sanford Naval Station and Naples, FL.
Prior to Teams 3 & 4 deployment to Cape Canaveral for their two live launches, I was assigned as commander of 'Camp Happiness' (as an additional duty) at Port Canaveral. For those of you who were there, the camp was a staging area for teams going through the two live launches at the Cape, and was located on the channel leading to the Port. Incidentally, I had control over half a dozen Cape passes that allowed us to observe some space capsule launches close up. We had a small but outstanding permanent party who provided excellent quarters and messing facilities. I remember our chief clerk was S/Sgt Archie (last name forgotten), a really great guy.
As my team neared the completion of our training, I asked our Maintenance Officer, Lt Tom Hardin, to select missile 888 as one of our birds for live shoot. This missile had been at the Cape on two previous occasions and failed to leave the launcher. My whole team had the confidence to take this on. I had some deep serious talks with the maintenance crew and our MSQ officer, Lt John Ellington, over some rather tasty beers. Our first live missile was launched effortlessly and got a very close CEP. Our second, 888, was also a perfect launch with another good CEP. During that countdown, the blockhouse was filled with observers from Group and Squadron Headquarters. By the time we counted down to T-15 sec, I had the confidence to move my Crew Chief, T/Sgt Maple, to my front and counted down from T-10 to launch in his ear. He punched the buttons and off soared 888. Maple was perhaps the first and only NCO who ever launched a 'Mighty Matador'. Needless to say, some of the HQ weenies were a little put out that I didn't select them.
Then on to Korea via San Francisco, Honolulu, Guam, Tachikawa and Kimpo. Upon arrival at K-55, we were quartered in some old Quonset Huts until our permanent Hooch was built below Hill 180. Pretty plush quarters for those days. We had individual rooms, inside latrine & shower facilities, and a large rec room.
The Launch Officers were;
Team 1 – Capt Hughes
Team 2 – Lt Elliott (I may be wrong)
Team 3 – Lt Bob Kajawa
Team 4 – Lt Bill Malone
Team 5 – Lt Don Hensen
Team 6 – Lt Bert Schwind
The Launch Teams were assigned to the 310th Tac Msl Sq, the MSQ Controllers to the 58th Support Sq. Both were assigned to the 58th Tac Msl Gp, commanded by Lt/Col Bowers W. "Big Daddy" Espy; Deputy was Lt/Col Smallwood. The 310th Commander was Maj Bill Morrison and our Ops Officer was Capt Bob "Papasan" Deegan.
Initially, the third element, Teams 5 & 6, had everything except launch pads. Our first task was to build two pads on 'D' Diamond, just below the hill where the NCO Club was located. When we first saw our launch pads, there was a large pile of 2x4s and a stack of ¾ inch plywood, along with a bunch of Korean laborers. Facilities people had drawn up some construction plans and we set to work building our home for the next year. I must mention that T/Sgt Maple requested transfer to the Maintenance Section at this time and was replaced by T/Sgt Reyes, who quickly learned the duties of Crew Chief. Blockhouse completed, we painted it AF blue and did some customizing, like a blue & white stripped awning over the viewing window. For those of you who followed, you'll remember the gun rack built into the wall just inside the door. The crew was quite proud of this entire project. Our pad became the 'showpiece' of the organization (in spite of the fact that the other four pads had cement block structures) and was the recipient of many 'guided tours' by the Headquarters types. The other five pads had Butler Buildings for sleeping quarters but we had to make due with two old tractor trailers, attached together. This seemed OK until they were heated and the tar roof sealant started leaking through. We finally did get our own Butler. The one item our pad needed was a water trailer which we just couldn't get. I turned the problem over to my crew and shortly, an AF water trailer appeared on site. Seems it was 'borrowed' from the Fighter Sq coffee shop. The 'loan' was short lived and I was 'requested' to return it to the coffee shop.
Once we started into the four day cycle – one day training, one day base recall alert, one day pad alert and one day off – we were pretty happy campers. The next big hurdle was our 5th AF ORI. On the appointed night my crew was standing hot alert on Team 5's pad, only because we had a pretty fair inkling that this was the night. The inspection team blew the whistle and the hot bird was off the launcher in less than 15 min. We then charged over to our pad and during the remainder of the ORI, we managed to launch five more birds, out of a squadron total of 15. We cleaned up the pads and those that could, repaired to the O'Club. Needless to say, I was very proud of my team and considered the bragging rights my own. One of the 5th AF inspectors made a bet that we had not replaced the shear bolt, so my Ops Officer and I took the bet. We went to my pad and found the hold down bolt in its proper place in the blockhouse where it was kept when the pad was on alert – bet won! In the aftermath, we were given a few days off and managed an uproarious weekend at the 'Quang-Qwang' hotel outside of Osan-ni.
Our sister squadron based on Taiwan didn't fair so well during their ORI so I was assigned a 30 day TDY to go down and work with the launch crews and the Martin Rep. There were no major problems but we did correct some minor clichés.
Sometime later, Lt Bob Kajawa's Team 3 was selected for a live launch from 'A' Diamond. This was supposed to be high secret however, hours before the launch, the perimeter fence was lined three deep with Koreans. Some secret! My team was somewhat let down that we were not chosen for the live launch. At any rate, the launch went off without a hitch but the bird was lost somewhere in the China Sea.
At a later date, during a training countdown when the engine was at 100%, I couldn't shut it down. The crew tried to open the plenum to run the RPMs back but to no avail (too much suction). I tried repeatedly to have the MSQ crew send a 'dump' signal to reduce the RPM to 60% but couldn't get the signal thru. As I found out later, we were on a training 'Raid & Silo' and MSQ was transmitting operational signals. After some thirty minutes of running at 100%, the engine was getting rough and the RPM was slacking off. At this point, the blockhouse was filling up with headquarters types and the front of the NCO Club was gathering quite a crowd. I had serious doubts that the engine was going to hang together much longer because of the severe vibration. Sgt Ferrell came forward and said he thought the RPM was low enough so that we could get into the plenum. He volunteered to leave the safety of the blockhouse, pry open the plenum door, cut the throttle rod attachment and run the engine back – all at great peril to himself. Quite a heroic deed. Maintenance never did find the cause of the malfunction.
Here, I must pause and pay tribute to the Base Mascot, a mutt named Rocky, who always appeared at the O'Club in time for Happy Hour. He was great entertainment, as some fighter jocks past, had trained him to 'Break Right or Left' on command, especially if there was beef jerky nearby. I often thought afterwards of old Rocky and hoped he enjoyed a long and happy life.
I can't help thinking back to our simple and inadequate Atomic Warhead safety system. Sgt Ferrell and I carried 45 cal. hand guns and answered the pad phone together. We both would have heard the launch command and acted in concert to send the 40 KT Nuclear warhead to some point north. This was at the time when the Cold War was really warming up. Quite a heady responsibility for a couple of young bucks.
The remainder of our 13 month tour was completed without incident, and we all happily returned to the States, having qualified for our Missile Badges. As an aside, I returned to Nellis AFB as a new Captain, much to the chagrin of the many fighter jocks we had in the 58th Tac Msl Gp. Some years later, all my Matador photos and souvenirs were lost in a storage facility fire and I have nothing left except the many fond memories. It would be great to recoup some of that stuff, even 50 years later. I often wonder what happened to the old Team 6 members and would certainly like to contact any still surviving. It would be great to hear from any of the old missileers who were at Osan AB during 1960.
Bert B. Schwind
Team 6 LO